This vegan, natural product line stands out for zealously combining green biochemistry with ancient wellness heritage of Ayurveda
- Lifestyle Asia

This vegan, natural product line stands out for zealously combining green biochemistry with ancient wellness heritage of Ayurveda
- Lifestyle Asia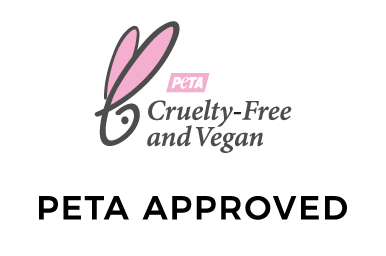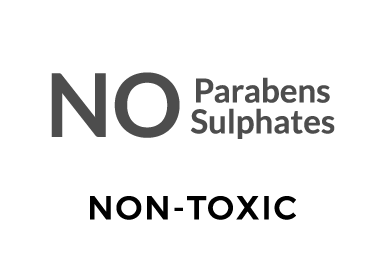 Traditional retinols and serums weren't doing us any favors, so we made one that will.

Clinically Proven Ingredients

No Colorants/ Synthetic Fillers
DESIGNED TO WORK TOGETHER
AHA/BHA/PHA Exfoliating Cleanser
Cleanses, and exfoliates for a refreshed looking skin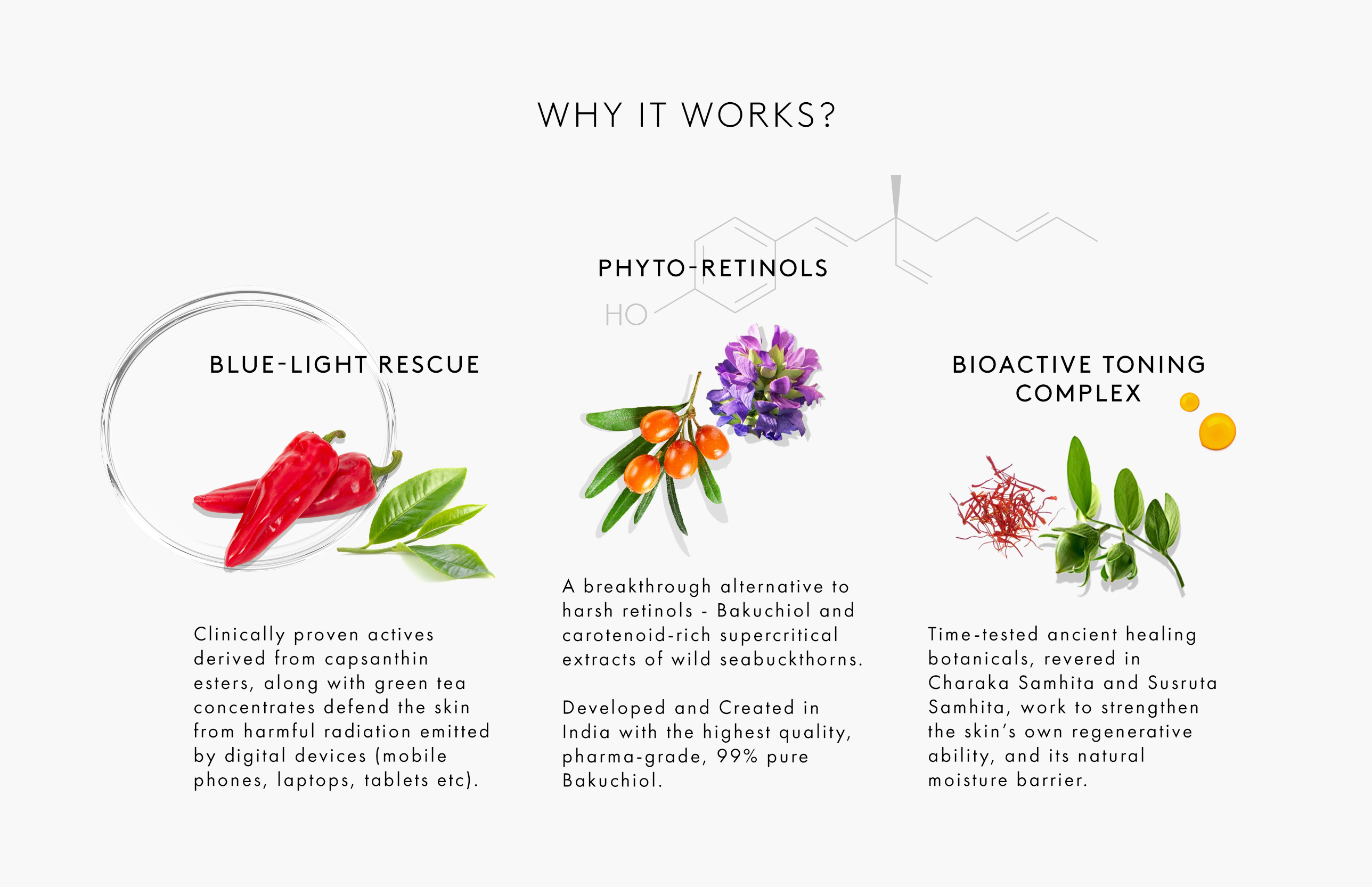 Clinically proven actives derived from capsanthin esters, along with green tea concentrates defend the skin from the effects of harmful radiation emitted by digital devices (mobile phones, laptops, tablets etc).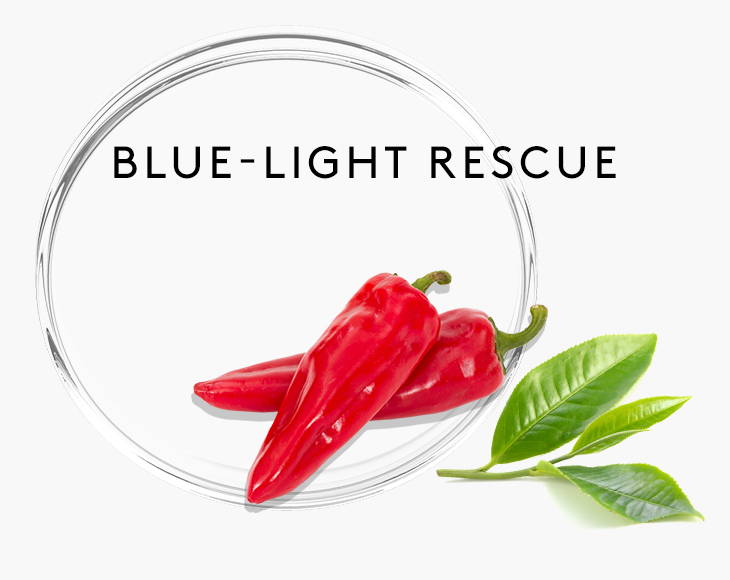 A breakthrough alternative to harsh retinols - Bakuchiol and carotenoid-rich supercritical extracts of wild seabuckthorns.
Developed and Created in India with the highest quality, pharma-grade, 99% pure Bakuchiol.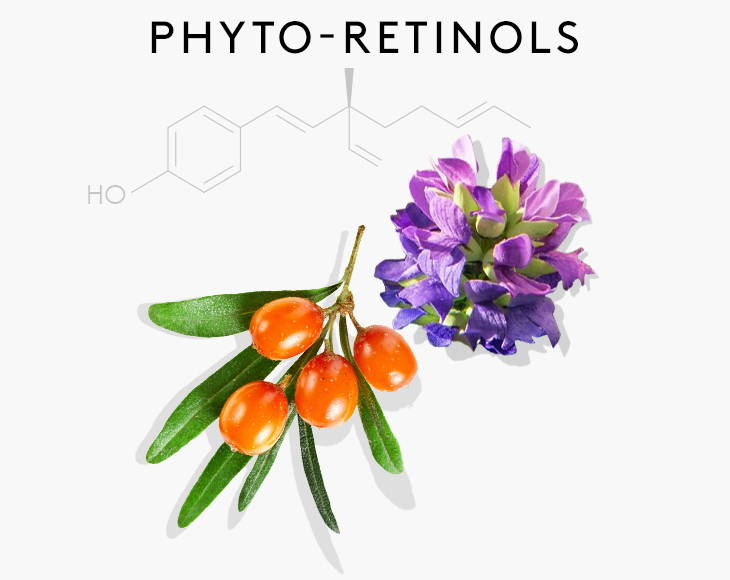 Time-tested ancient healing botanicals, revered in Charaka Samhita and Susruta Samhita, work to support the skin's own regenerative ability, and its natural moisture barrier.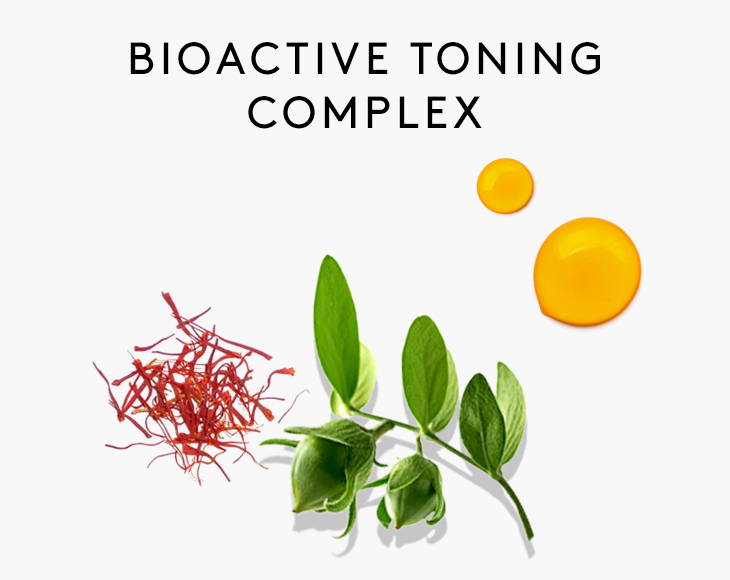 Radically New Skin Science.
Formulated with clinically proven, efficacy-driven bioactives.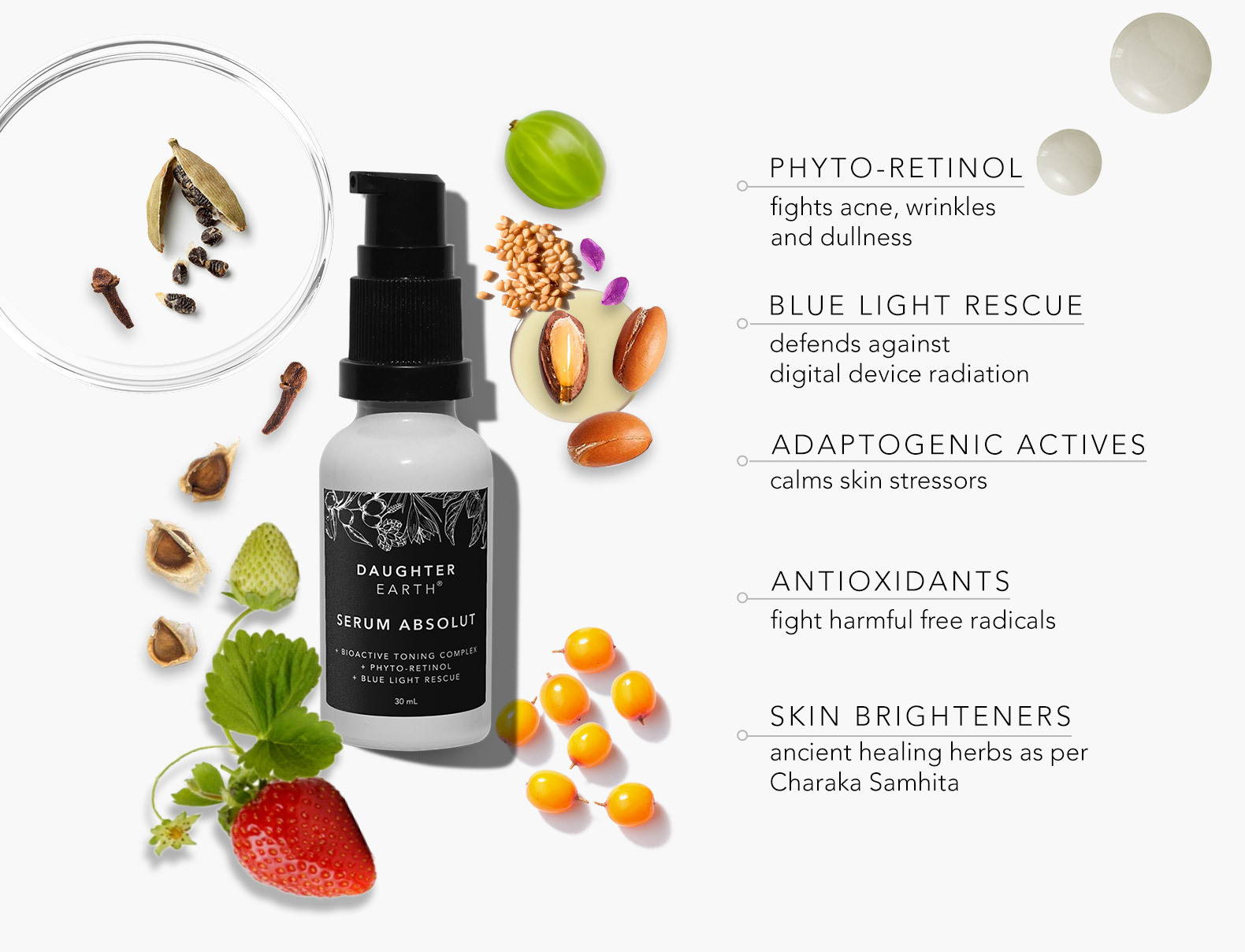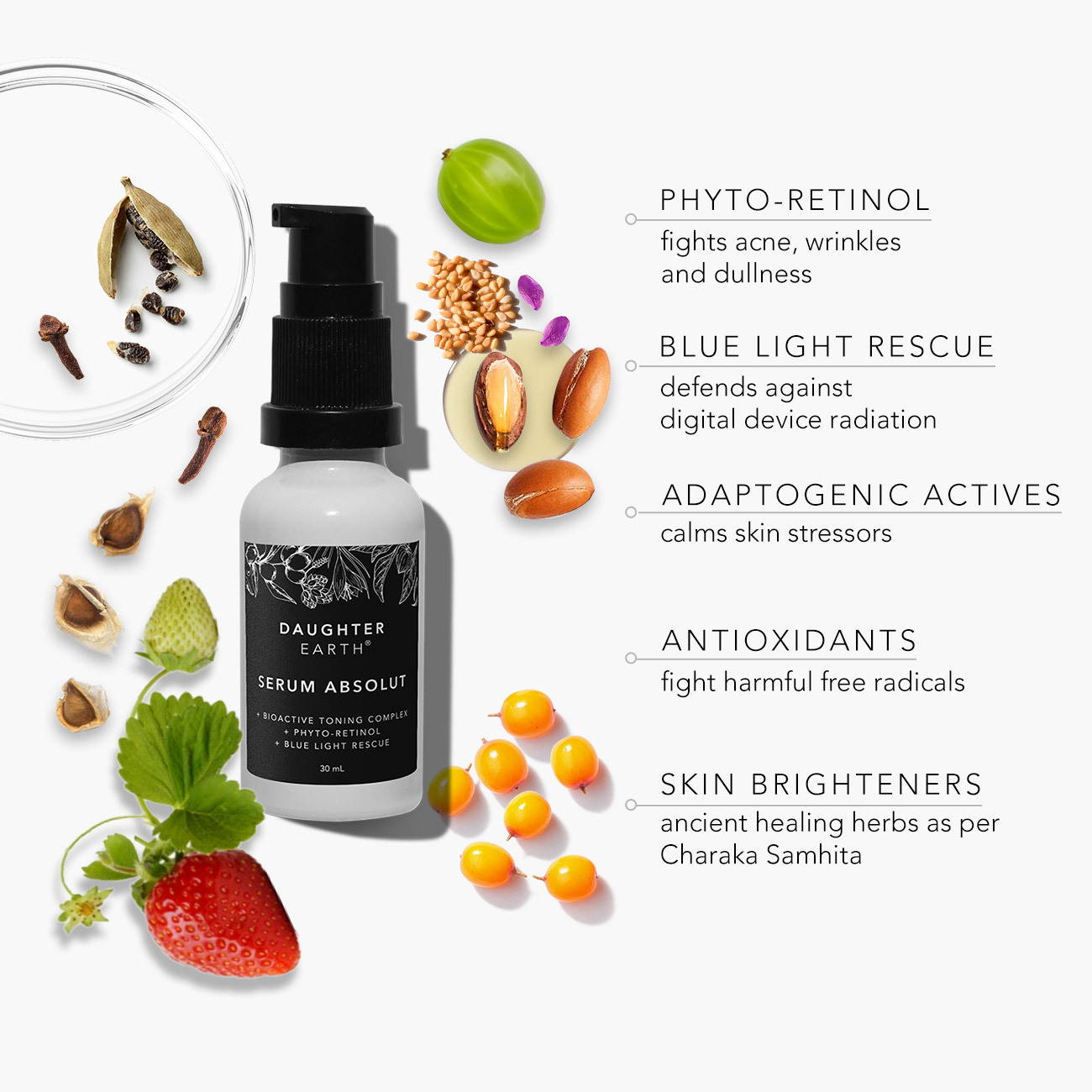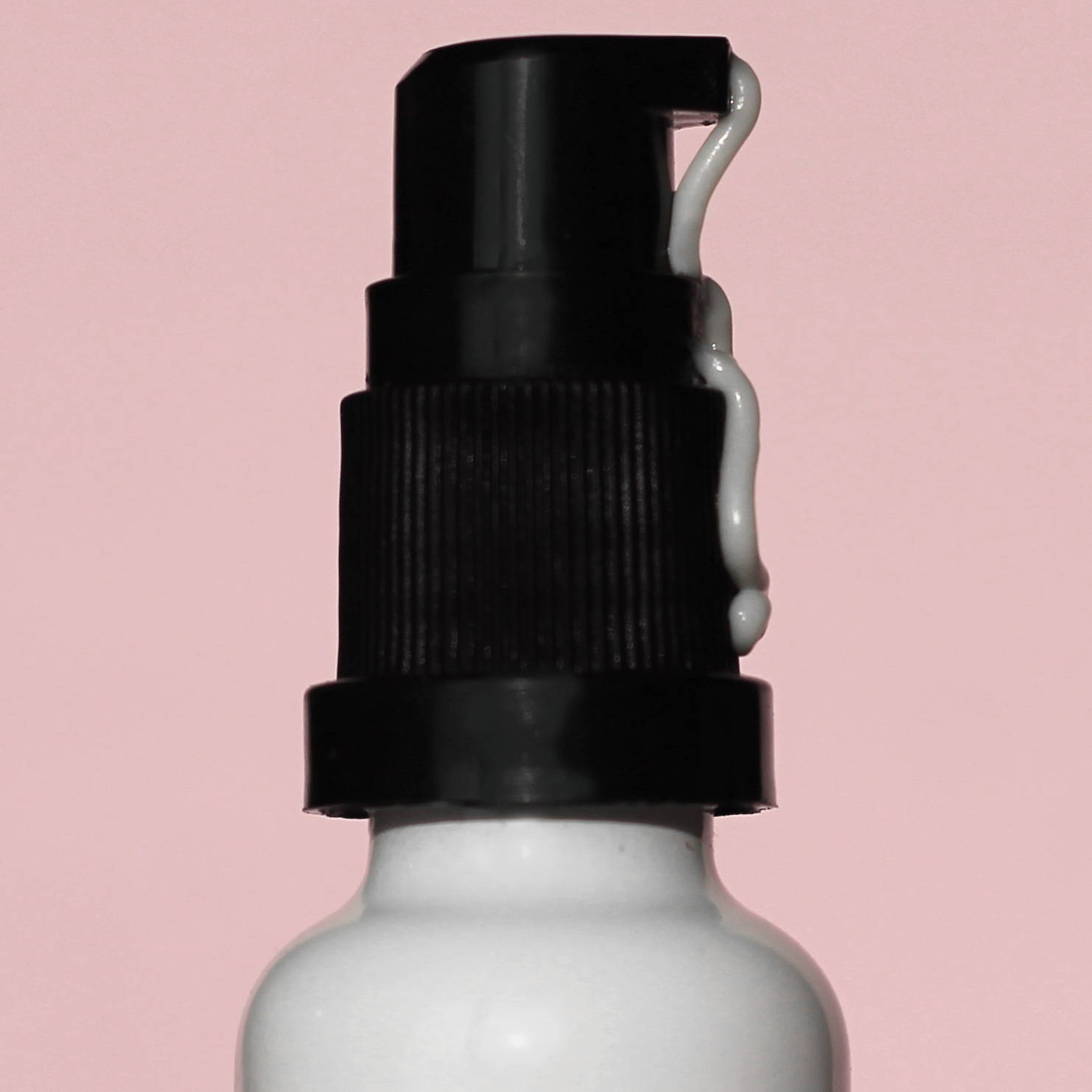 On a clean face, pump out Serum Absolut and pat it evenly all over. Do not rub. Patch test in the inner elbow before use.
1-2 pumps all over the face and neck, depending on your skin's moisture needs. Always start small and gradually increase the dosage.
Light and quickly absorbs with a non-sticky after feel.
Fragrance-free. Smells earthy and natural because of the medicinal herbs.
Shelf Life: 2 yrs from manufacturing.
Period After Opening (PAO) - 6 months. (Use the product within the PAO)
Aqua, Argan Oil (Argania Spinosa Kernel Oil), Lotus extract (Nelumbo nucifera flower) extract, Avocado Oil (Persea Gratissima Oil), Rose (Rosa damascena petal) extract, Jojoba Oil (Simmondsia Chinensis Seed Oil), Grapeseed Oil (Vitus Vinifera Seed Oil), Glycerin, Cetearyl Alcohol, Stearyl Alcohol, Milk Thistle (Silybum Marianum) seed oil, Pomegranate (Punica granatum seed) oil, Chia (Salvia Hispanica) Seed oil, Mulberry Extract (Morus Alba Leaf Extract), Licorice Extract (Glycyrrhiza Glabra Root Extract), Strawberry Extract (Fragaria Ananassa Fruit Extract), Gooseberry Extract (Phyllanthus Emblica Extract), Moringa Oil (Moringa Oleifera Seed Oil), Almond Oil (Prunus Amygdalus Dulcis Oil), Bakuchiol (Bakuchi seed extract), Sesamum Indicum (Sesame) Seed Oil, Capsicum Annuum Fruit Extract, Green Tea Extract (Camellia Sinensis Leaf Extract), Carrot Root Extract (Daucus Carota Sativa Root Extract), Papaya Extract (Carica Papaya Fruit Extract), Cherry (Prunus avium) fruit extract, Kiwi (Actinidia Chinensis) Fruit Extract, Sesamum Indicum (Sesame) Seed Oil, Hippophae rhamnoides (seabuckthorn) fruit extract, Ashwagandha (Withania Somnifera) Root extract, Amahaldi (Curcuma Amada) Rhizome (Wild Turmeric) extract, Punarnava (Boerhavia Diffusa) Root extract, Kesar (Crocus Sativus) Flower extract, Nagkesar (Mesua Ferrea) Flower extract, Tocopherol, Potassium Sorbate, Guar Gum, Sodium Benzoate, Japa Pushpa (Hibiscus Rosa-Sinensis) flower and leaf extract, Shatavari (Asparagus Racemosus) Root extract, Karpura (Camphora Officinarum) Leaf extract, Atibalaa (Abutilon Indicum) Plant (Indian Mallow) extract, Manjistha (Rubia Cordifolia) Root extract, Palash (Butea monosperma) Stem extract, Haldi (Curcuma Longa) Rhizome extract, Saindhava (Rock Salt) extract, Cinnamon (Cinnamomum Cassia) Stem extract, Xanthan Gum.
Ingredient lists may change or vary from time to time. Please refer to the ingredient list on the product package you receive for the most up to date list of ingredients.
Frequently Asked Questions
1. Is it safe for pregnant and lactating mothers?

Yes, Serum Absolut is designed to be safe for pregnant and lactating mothers. It is always best to consult your gynaec when you are pregnant
2. Can I use this with other products like Rejuvenating Serum?

Yes, and in fact, they are designed to work together to give your skin everything it needs to restore and repair its natural balance. Serum Absolut can be applied in the morning and night after priming with Rejuvenating Serum.
3. How to use this in a skincare regime?

Day Regime - Cleanse with a gentle face wash such as our Active Botanical face wash Rejuvenating Serum + Serum Absolut + Moisturiser/ Sunscreen if required + Makeup (optional).

Night Regime - Cleanser + Rejuvenating Serum + Serum Absolut + 8 hours beauty sleep.
4. Can I use Serum Absolut WITH SUNSCREEN?

Yes, Serum Absolut can be applied below the sunscreen. Sunscreen should be your last
5. Does Serum Absolut work for all skin types ?
Yes, Serum Absolut is strategically formulated to work for all skin types, including sensitive skin, dry skin, combination skin and oily skin.
6. How is Bakuchiol effective ( natural alternative)?
What is Bakuchiol? Bakuchiol is the only natural alternative to provide retinol-like effects and is clinically proven. It helps promote skin renewal, brighten the look of skin tone, reduce the appearance of acne, fine lines & wrinkles, and soothe troubled skin. Additionally, we have added carotenoid-rich ingredients such as wild sea berries, red bell peppers and carrot root concentrates to further augment Bakuchiol's effect. It would be similar to about 1% retinol.
By skincare standards, 1% is considered very potent.
Our clinical-grade Bakuchiol is one of the purest you can find in the world (99% pure), and proudly Made in India!
7. Is it for day or night?
BOTH day and night. We recommend that you use Serum Absolut twice a day- once in the day to protect from blue light and other stressors, and once in the night to rejuvenate the skin by working alongside the skin's natural healing cycle.
8. I have troubled/ acne-prone/ oily / sensitive skin. Is Serum Absolut for me?
Absolutely. Especially if you have any of the above skin types, you will find Serum Absolut to be particularly helpful in managing your skin better.
9. At what age should you use Serum Absolut?
Serum Absolut is suitable for ALL adult age groups. The Blue Light Serum actives fight the harmful effects of digital device radiation (Blue Light/ HEV emitted by laptops, mobile phones etc) across all skin types.
When we are young, it helps protect the skin, and during your reproductive years, it helps balance the skin and soothe acne and breakouts, and as you age, it helps with a healthy skin barrier and provides with active nourishment.
Oh absolutely! We have a quite a few loyal men who swear by the product :) They also love the fact that the serum is not fragranced.
Serum Absolut is a story of India-based innovation. It combines classical Ayurvedic methods such as taila pāka vidhi as mentioned in Charaka and Sushruta Samhitas, dating back to 12th Century BC, with modern green extraction processes including supercritical CO2 extractions of wild, organic and high-performance botanical ingredients.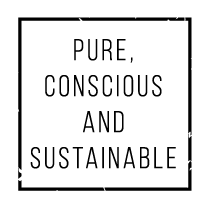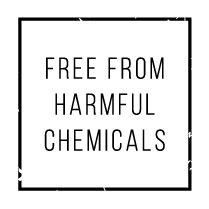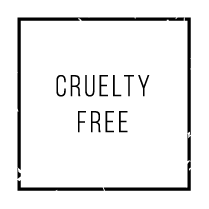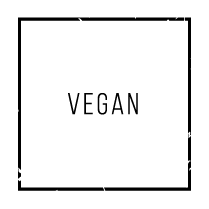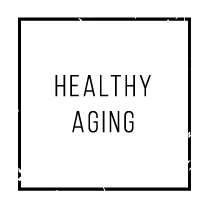 GET SOCIAL WITH US
@DaughterEarthOfficial on Instagram